A couple of weeks ago, I found out that a friend of mine (who works for Disney) was back in Anaheim for a project. Hope didn't hesitate and asked if she could get us in (for free, btw). Monkey was ecstatic when I told him that we were going. I requested the day off, and to the place where dreams come true we went!
Me: Monkey is definitely ready for Disneyland today!
Sis: Yayyy!
Mom: Haha! I bed he's 'kacited!"
Of course Monkey was "kacited! He was going to Disneyland for the day. Hope and DF met me at my place, and away we went! We decided to start the day in California Adventure (I had only been once, and only for a couple of hours last time). Monkey went nuts when we passed Lightning McQueen from Cars.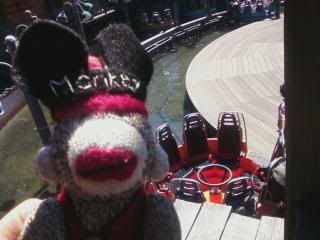 Me: We're going to get wet! We already rode California Screamin' and Monkey loved it!
We had also been on Tower of Terror and Soarin' Over California. Monkey like Soarin', but Tower of Terror was way too scary for him. After lunch, we headed over to Disneyland. But first, Hope and I stopped to get birthday buttons! Monkey whispered in my ear that he wanted to get a birthday button when his 2nd birthday rolled around. I told him I would definitely think about it!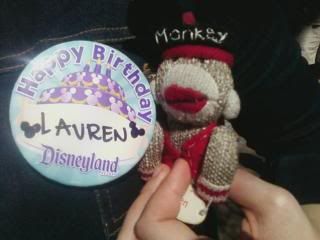 Me: Monkey is so excited that I got a b-day pin! Hope got one too!
Monkey loved that the Cast Member took extra time to write a little note on the back. It read, "Happy Birthday
Zoey 5/14/2013″ .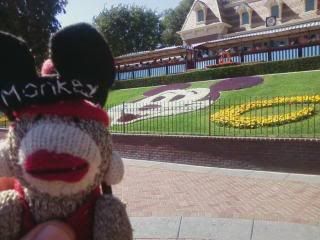 Me: Monkey likes this pic better cause he now has ears!
We were able to do everything we wanted, and we ran into our friend A&W, who was there with some college friends. Monkey's favorite ride of all was Space Mountain, so we ended up going on it twice!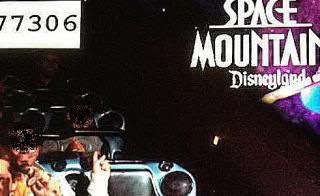 Me: Can you see Monkey? He loved Space Mountain so we went twice!
Mom: Yeah!
Of course, by the end of the day, Monkey had fallen asleep (it was such a late night for him!) and didn't even realize that we missed the Haunted Mansion (he knows I like it). I knew he had such a good day and I hope to take him again soon!